Party at YouTube Fan Festival!
8:12 PM
Hello, readers!
As you know in my last post, I actually joined some of the quizzes to get the ticket for YouTube Fan Fest, and... I ACTUALLY GOT IT!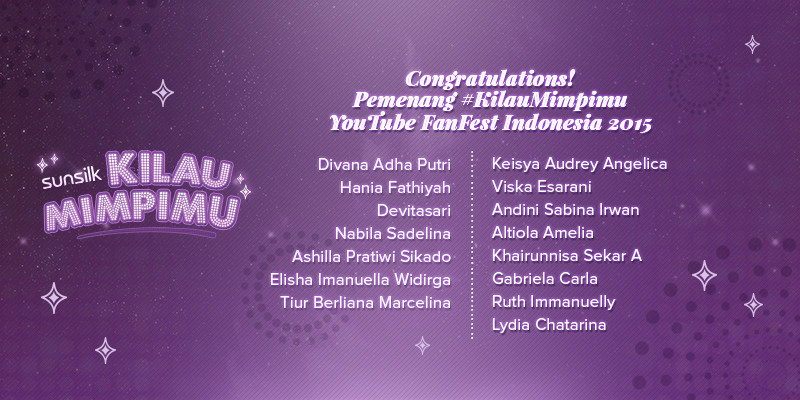 I got it from SunsilkID on Twitter by tweeting this tweet:
— Khairunnisa Sekar A (@sekarksa) October 18, 2015
They called me the next day (on Sunday) mid day when I was in class, so I didn't see it. They called me again the next time around the evening telling me I was the winner, and I it was really out of my expectations! By the way I got 2 wristbands by winning it which I had to get them at Loket.com (9H, 88 Office Building) before 7 p.m. on Wednesday.
Back to the story, I went to the event with one of my friends. The gate opened at 7.30 p.m. and the party started at 8. I left my place at 5 p.m. and I arrived at the mall around 8 p.m.! That sucked! (I'll tell you about that story on the next post) I was sooo sad and disappointed and really lose my excitement because the trip was too long and made us coming late.
But the good news is, when I stepped my foot to the venue, I was literally amazed. The place was pretty huge, the stage was very very nice with cool backdrops and lighting. Really, really cool. The reddish beam typical for YouTube was so amazing.
When we came in, Dovi and Jovi (SkinnyIndonesian24) were singing Indomie song with high energy, and most of the people were sing along with such heat. That really brought back my excitement to the party as I swam through the ocean of people to get to the front row. I didn't get to the front row though, but I was pretty happy with all of the things I experienced that night.
Before the song ended, Reza Oktavian came out doing some cool dance, and then Eclipse also came out doing some beatbox and rapping. They all then sang together until end (and brought up some real Indomie to the stage!). The end of every performances were signed by the appearance of Edho Zell, who acted as the emcee. Also, before the performers went back to the backstage, they'd be interviewed by Edho for a while.
The show was continued by The Overtunes performance who brought 2 songs. After they finished their songs, Natasha Farani, Linda Kayhz, and Cheryl Raissa came out with a fan to the stage. They only came out for a short time because they didn't do a performance (well, since they are beauty vloggers). They DID do something though, it was about make-over. They would make-over the fan, Alifah. So previously, they basically did some quizzes on Instagram for their fans. One of their lucky fans who win the quiz could have the opportunity to went up to the YouTube Fan Fest stage and getting made-over. And so the fan was Alifah. They didn't do it on stage by the way, they only came to the stage to told us that they would do the some make-over at the backstage and then after some times, they would come back to show us the result. And while they did the make over, other YouTubers would perform on stage.
Another YouTuber that was performed was Mike Tompkins. Yes, as you can guess, he came in as the room filled with our screams. He was so cute and nice. He said Indonesian fans were one of the greatest fans in the world. He asked one of the fan's name (who were on the front row). Unfortunately the fan was a he, lol, because then Mike made a short rap + beatbox that was made by his name. He also tought us how to do some beatbox, for trumpet and snare sounds. He laughed a lot it looked like he enjoyed his time on stage so much. That made us love it more.
Mike then went back to his DJ set, but then GAC came out and collaborated with Mike. The song was called Stronger. Mike went back to the backstage after Stronger, but GAC continued their performance with 2 other songs. After another 2 songs, they went back to the backstage and were substituted by another singers. They were Jebe and Petty, the winner of X Factor Indonesia 2015. They were cool, they have nice voice, Petty had such cute outfit, but Jebe's voice is so high it can kill you. No, I'm not joking. Jebe has high voice and high pitch that wheneve she screamed, we literally protected our ears with out hands. At least that how most of us felt. But, still, very nice performance.
After their performance, Edho came to the stage again to show us how the make-over was going at the backstage. Dovi and Jovi were also at the backstage ruining the make-over session. It was a cute break time! It was only a few minutes though, then the show continued with another performance from Young Lex, a rapper. He came out with his friend, Dycal Siahaan. They brought 3 songs; the 3rd one was called Delete Contact and it has cute lyrics! Their performance didn't really get too much attention (judging by the screams), so at the second song, other YouTubers (SkinnyIndonesia24 and Jakarta Beatbox) showed off to the stage to dance and brought back the heat and attention, and it was pretty effective..
This is how far I was standing. And, yes, it's her on stage!
After Young Lex performance, here it is... the one that most of us were waiting for (again, judging by the screams), the one and only.. Bethany Mota!!! She literally had the most screams out of all YouTubers. She also looked so surprise by the screams. The first thing she said was, "Oh my God, this is crazy, it is so loud!". She was wearing a mini floral printed skirt and a white long sleeves crop top with ankle boots and grey/brown knee socks. She was so pretty! No, she didn't sing her song, but she did a game show! The show was called Who Knows Bethany Best, and the host were Dovi and Jovi. Basically it was a game show where there were some questions and anyone who got to answer the right answer would get a score. The game was actually played between Beth and her fans, 3 lucky fans. There were 3 panels at the stage; the one for Beth on the left, for Dovi and Jovi on the middle, and for the fans on the right. The questions were all about Beth and her journey around the world. Long story short, the winner were the fans. They got to ask for the price, and they asked for a selfie with Beth on the stage. How lucky they were!
Beth finally went back to the backstage and then Natasha Farani and friends came back to the stage with Alifah, who already got made-over. To be honest, she turned out pretty and edgy, good job Natasha and the gangs! Back to the show, Jakarta Beatbox then came out and did their performance. It was sooo cool, I like them a lot!
Next, it was Kurt Hugo Schneider who took over the stage. After two songs, Macy Kate then came out and did a collaboration with Kurt. Macy is fricking gorgeous and her voice is just heaven! I love how she did her performance, like a lot! After one song, here came Sam Tsui! But, wait, not as you think it would be, Sam Tsui didn't sing alone. He, Kurt, Macy, and Kurt's drummer actually did some tricky clap while singing The Patty Song. It was so cute and cool! They also got their eyes closed (by Jakarta Beatbox and Edho) while doing halfway of the song. Very amazing! They did it great!
After that amazing clap performance, Macy went to the backstage leaving Sam and Kurt (and his drummer). He brought two song with such good spirit. I felt like he was made of flames because he was so shining and so energetic. On the second song, he called Jakarta Beatbox to go back to the stage and did a collaboration. And that's, guys, basically all of the performance of YouTube Fan Fest Indonesia 2015!
Oh, by the way, as you can tell, I was late at the event. Before Dovi and Jovi's performance, Edho, Eka Gustiwana, and Indovidgram had a performance together. Edho and Indovidgram danced along with one of Eka's creative song about Edho. It's very cute!
The show was held for around 2 and a half hours. Since it was held at Skenoo Hall, that happened to be at Gandaria City Mall, the shops were all closed and dark when we went out. But after all, the event was amazing I really didn't regret it at all. I was so happy for all the performances they were all so great. I really want to show you the pictures of the place, but I don't have a good quality camera, so I can't show you much. But I'll give you the video of the event below for the whole 2 and a half hours so you can see for yourself of how amazing it was!
I'll give you the details on what minutes of which performance:
The show starts (Edho Zell, Eka Gustiwana, & Indovidgram): 28:12
SkinnyIndonesia24: 35:18
The Overtunes: 50:14
Natasha Farani, Linda Kayhz, & Cheryl Raissa: 1:02:18 (before make-over), 1:40:41 (backstage), 2:07:25 (after make-over)
Mike Tonpkins: 1:09:30
Gamaliel Audrey Cantika: 1:16:40
Jebe & Petty: 1:33:23
Young Lex: 1:43:01
Bethany Mota: 1:53:03
Jakarta Beatbox: 2:10:56
Kurt Hugo Schneider: 2:23:15
Macy Kate: 2:27:04
Sam Tsui: 2:33:37
You need to watch the whole show though, it's so amazing! But if you only want to see some of the shows, I already did something to help you in what minutes to find it. Hope that helps!
That's it, readers! I really hope you can enjoy my journey with this post, I wish I can give you more, but you know I'm always developing :)
Before I end this post, I want to show you some of the pictures I took:
So that's it for today's post! Psst, I have another amazing journey that I want to post asap, still about YouTube Fan Fest.. Clue: Meet&Greet ;) See you in the next post! Oh, I almost forgot, they will make another YouTube Fan Fest Indonesia next year! Hope we can go too there next year!
Thank's for reading, readers!